World's #1 Salon, Spa & MediSpa Management Software
Billez is a Next Gen Salon, Spa & MediSpa Management Software Allowing Businesses to Build Customer Relations Beyond Transactions in a Digital First World.
[contact-form-7 404 "Not Found"]
An Industry Leading Name Trusted by the Industry Leaders WhatsApp
Powered Operations Assistance
Our proprietary WhatsApp based automated marketing manager Birbal takes decisions using state of the art machine learning techniques to acquire valuable customers and improve customer retention – thereby equipping you with the marketing prowess of a 800 pound marketing gorilla.
SUCCESSFUL MARKETING
CAMPAIGNS
DIGITAL RECEIPTS
DELIVERED
CUSTOMER FEEDBACK'S
PROCESSED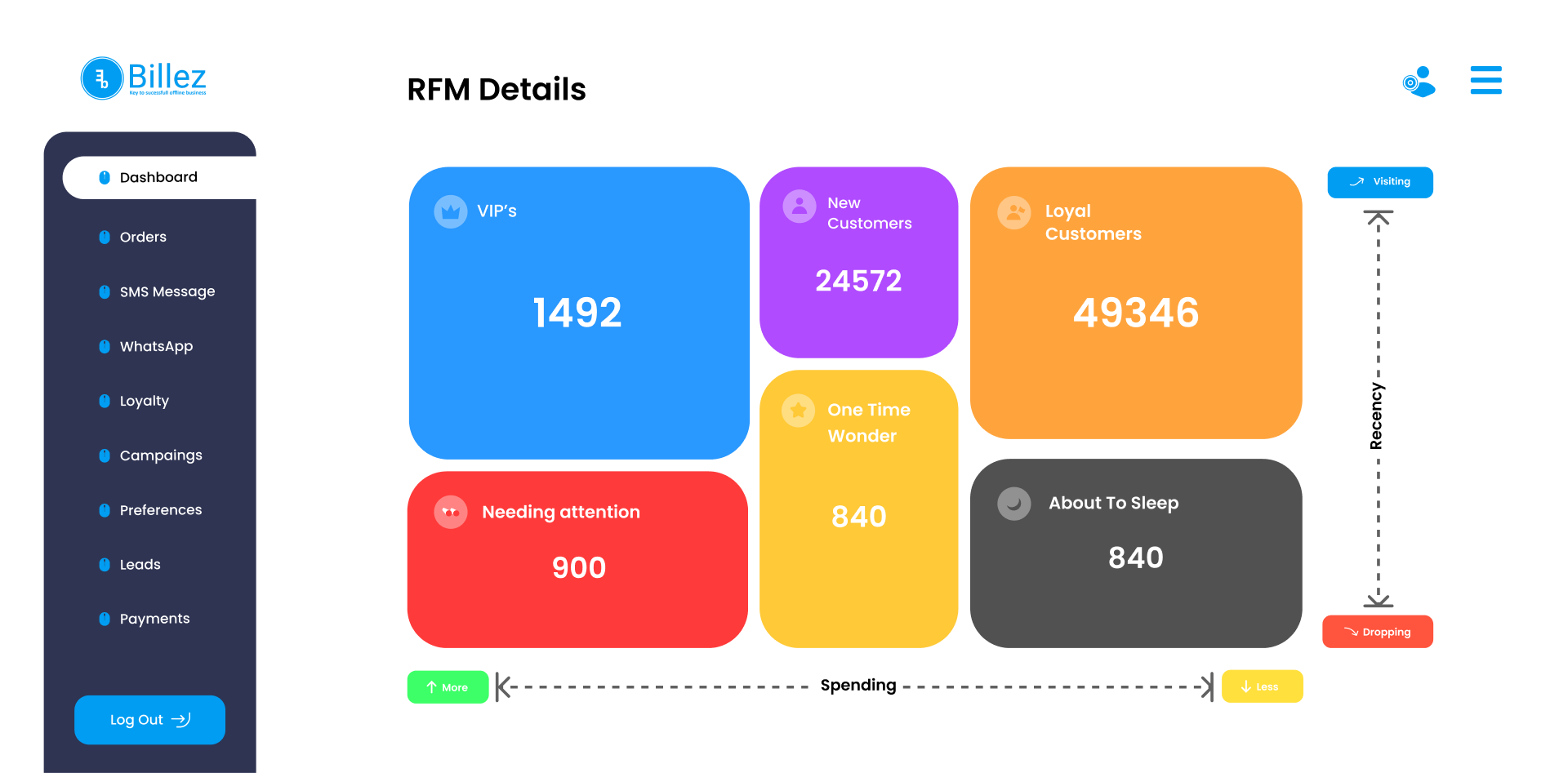 An AI-Powered CRM that Truly Understands Data & Runs Relevant Digital Campaigns
Billez's AI-Powered CRM is built on the Pillars of Martech Excellence i.e understanding the customer on a deeper level, running highly personalized campaigns, and building true loyalty. Billez's Next Gen CRM achives all this with excellent data collection, storage, management & analysis.
WhatsApp
Powered
Engagement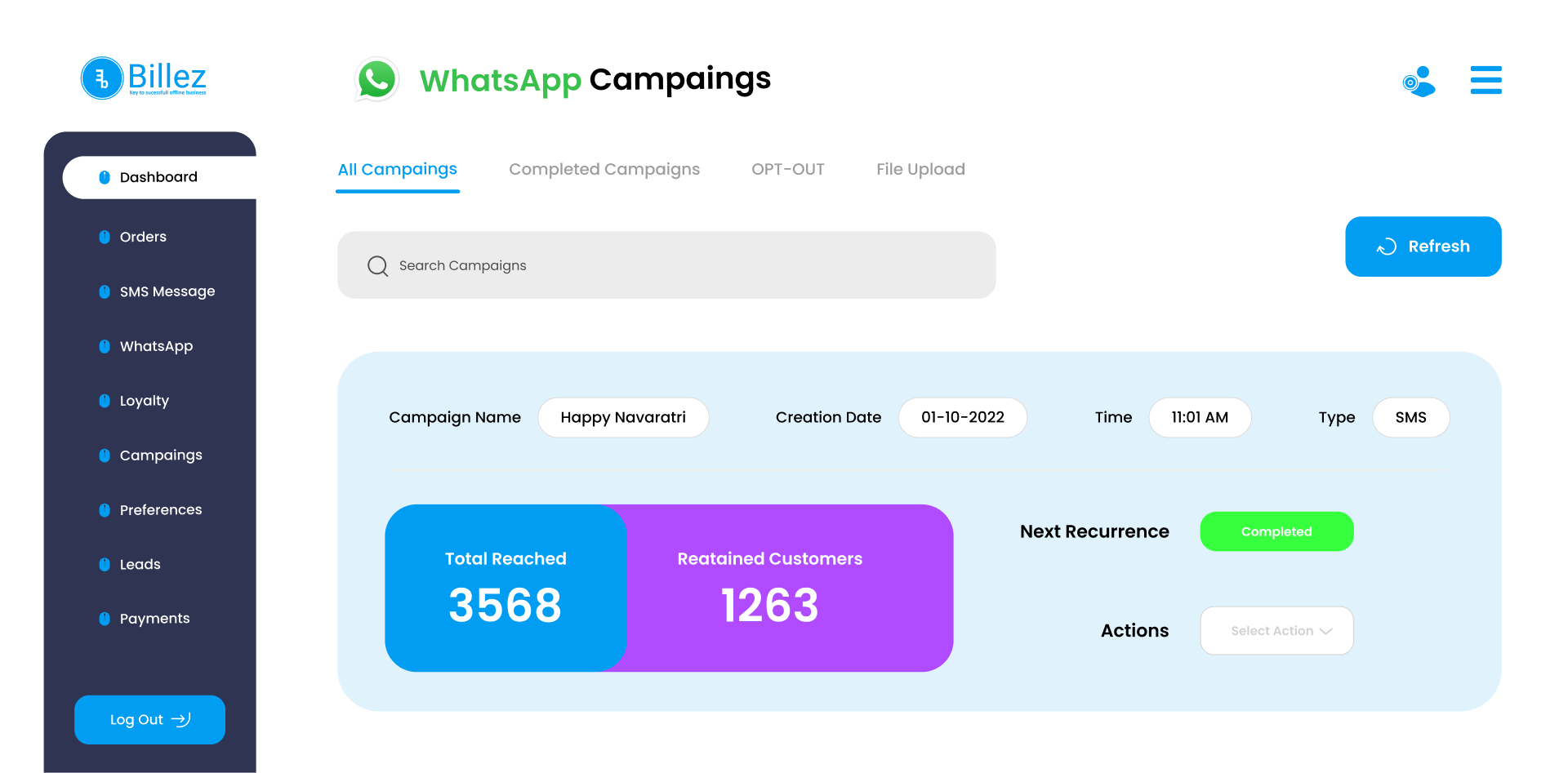 Customer Engagement & Relationship Management Powered by WhatsApp
Billez helps you set up automated customer journeys to streamline sales, marketing, and customer support processes for your Salon, Spa & MediSpa. We help your team focus on thoughtful & meaningful work, while our WhatsApp bot take care of the repetitive customer interactions.
Point of Sale for
Salon & Spa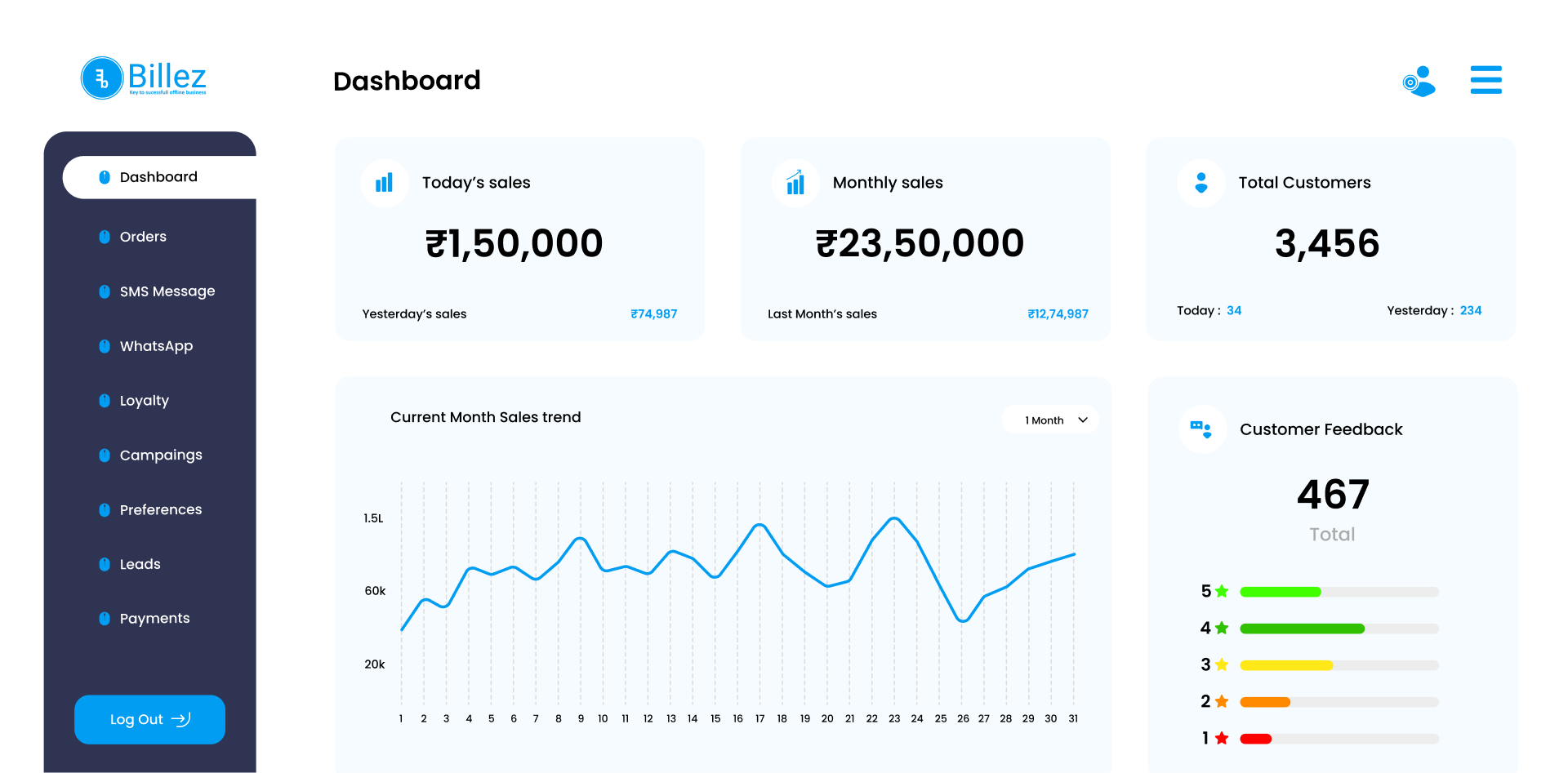 India's most Trusted Spa & Salon Billing Software
Billez is your single window for accurate and hassle free data collection, management of inventory, appointments, billing, customer feedback and analytics. It makes everything simpler for you and acts as your sales enabler. Billez is user friendly and helps you do everything in negligible down time.
Retail
Marketing Automation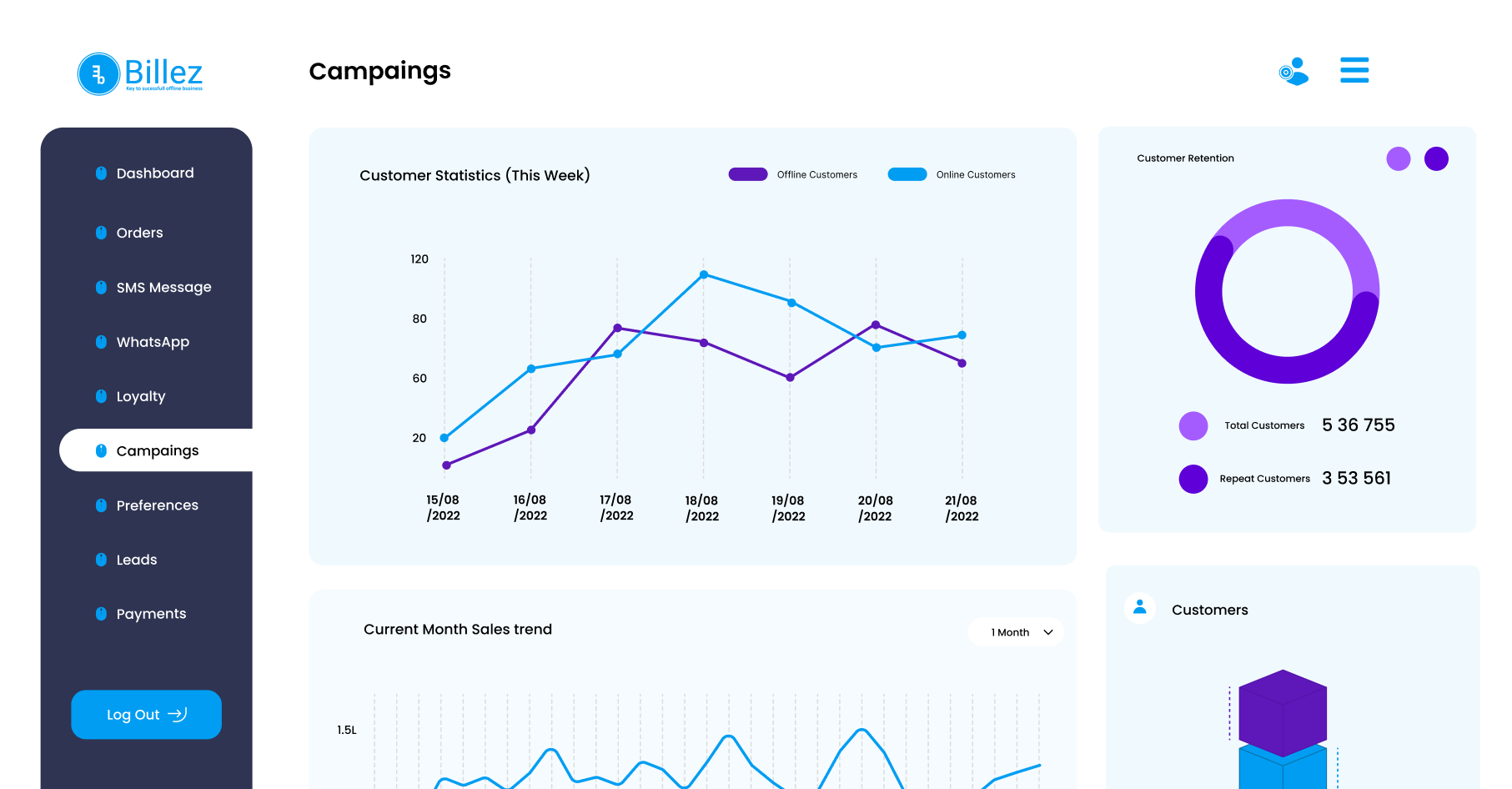 Marketing Automation Specially Designed for Salons & Spas
Billez is the only marketing automation platform specifically designed for the Beauty & Wellness Industry. From lead acquisition to customer journey we do it all. We are here for every business regardless of its size. You can have access to the marketing tools embedded in our system which helps to cater to your customers effectively.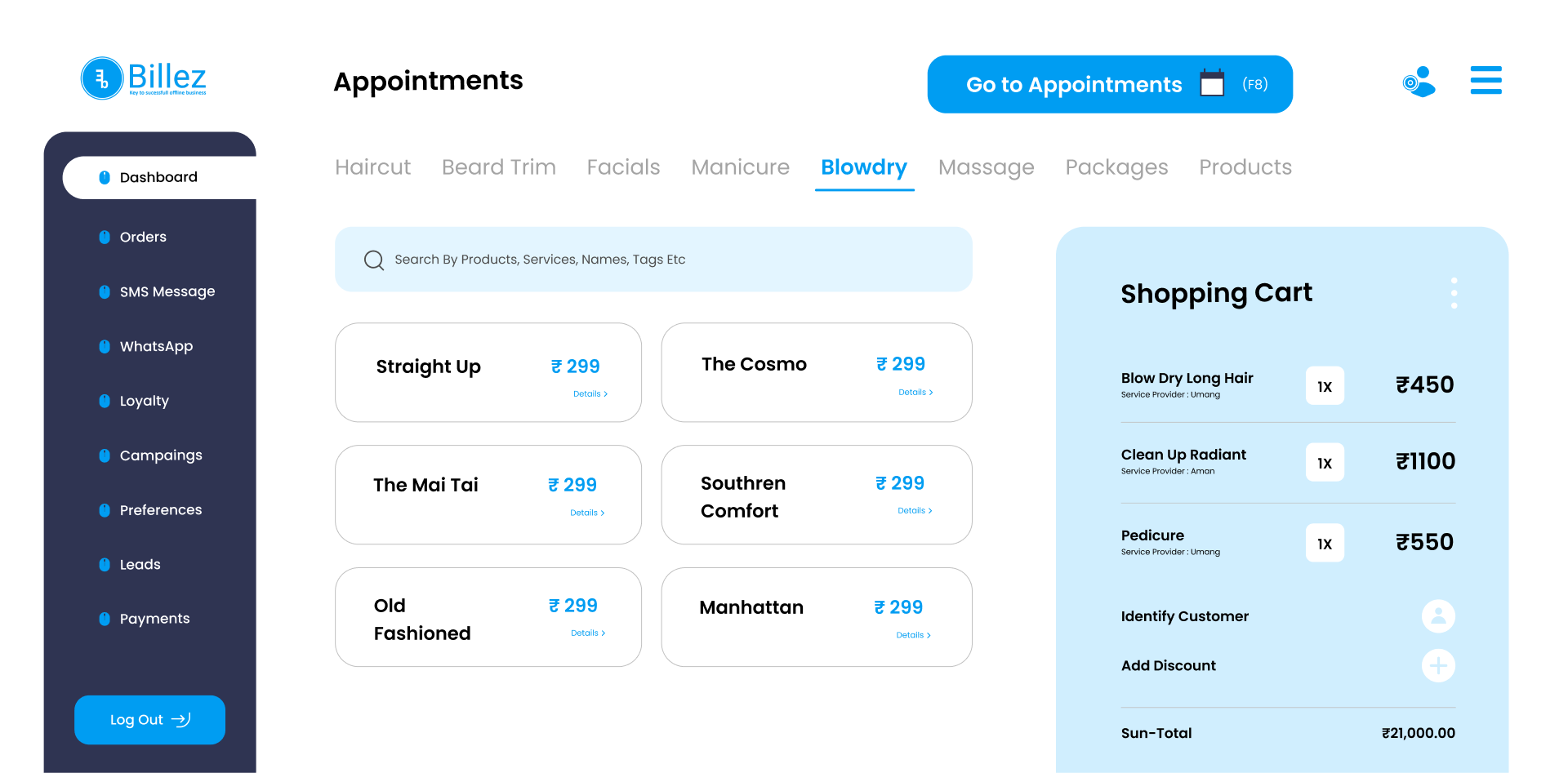 No Discounts Anymore: It's the time for Cash Backs & Prepaid Cash Cards
Our Card Management Suite is a unique way of giving incentives to your customers via cash backs, gift cards and prepaid rechargeable cards. We make use of the data, customer profile to retain customers. We are here with an inexpensive infrastructure that is less time consuming which provides ready to launch vouchers, cashbacks and gift cards.
Start Your Free Trial Today
Contact Us Today to Get A Free Trial.